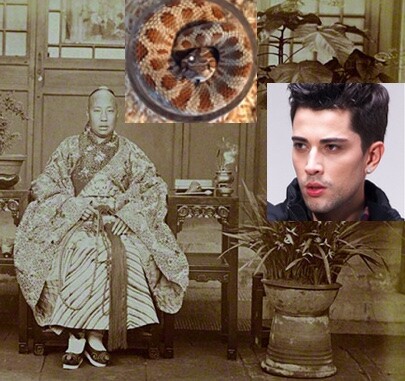 Everyone has heard about them: the eunuchs that served as loyal servants to the emperors in China or the sultans in Turkey. This is a topic that scares people in general because the ritual to castrate the eunuchs was truly a barbarian thing. The castration part was an act of going against the natural principles of nature. Everyone could see it because it was done on the physical body and they became outcasts of society.
Today we have a situation with western men that is extremely serious because their natural human state has been altered by modern culture which persecutes traditional men and vilifies traditional culture. After the man´s role to run and protect his family disappeared the modern man has no real purpose of life other than searching for fame and gain – something which can´t make people happy longterm. We all know the western creation myth of Adam being dominated by Eve and the female snake demon king Lilith… It seems like the ancient curse has a strong influence on western men considering that free sex, feminine men and strong women are promoted wildly by western governments.
Furthermore, when all patriotism and masculinity disappears there is no man to defend the nation. At that time there will surely be a disaster brewing. Finally, when men are not even interested in women and vice versa everything collapses.
The western civilisation is now about to collapse with all traces of traditionalism being destroyed quickly by their own governments.  The majority of people are asleep and don´t realise the danger but there are some people who have woken up and use various methods to enlighten the population of what is going on.
Is it true that modern people are modelled on the eunuchs of ancient times? We investigated this statement and found many interesting truths. Especially it seems like most of the western world is completely unaware of this danger while the Chinese Communist Party is doing everything to stop their Chinese men becoming completely feminised. In recent days this article was published.
BBC: New Chinese Education Policy To Make Boys More 'Manly'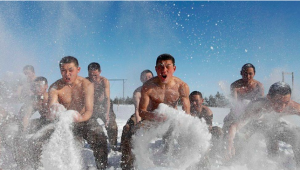 Chinese boys don´t want to become military officers
In China, with the CCP tyrant regime at the helmet, we see a government who wants to take over the world and we see that they now push their young men to abandon the "sissy culture" of Chinese guys being raised by grandmas and overprotective mothers. India has a saying about Chinese soldiers: "Little emperors" and the jokes being made about young Chinese guys crying about the discomfort in the army is wellknown.
How come that China pushes masculinity and the west pushes feminisation? It´s obvious to anyone who has studied military tactics and learned the value of culture to sustain a country´s existence longterm. Feminisation will inevitably lead to disaster for the country and the CCP knows about it.
How about castration of the mind? It´s invisible and if you can control the information flow you can twist the minds of people and make them support their own demise. Isn´t it much more lethal than the physical castration of ancient eunuchs?
Ordinary people would scold the eunuchs all over the world, in Turkey, India and China and people would hold their noses as they passed by them because the eunuchs would stink because of their hygienic problems after castration.
Since the eunuchs could not procreate the idea was that they could not have offspring and hence they were not interested in creating a private dynasty and assassin the current ruler. They could also deal with women without risk for affairs. This was the obvious, positive side effects for a ruler to use these people to do sensitive and low works like serving the wives and concubines at court. They were looked upon as disgusting people that were the lowest class in society.
The Reputation of Chinese Eunuchs 
The negative character traits are not so familiar to most people but the reputation of the eunuchs in Ming dynasty China is described as follows:
"However, the reputation of eunuchs was controversial in Ming China, especially considering the way they had their eyes and ears everywhere. Since the Eunuchs served both the haram and the emperors, it was believed that they were able to carry valuable information that could either break or create an emperor's status, so out of fear, Chinese bureaucrat-scholars always depicted eunuchs negatively as greedy, evil, cunning, and duplicitous. The Chinese seemed to have a stereotypical view toward the eunuchs. This bad reputation may be explained by the fact that the eunuchs, in order to get employment in the royal palace or official houses, needed to be castrated. Castration gave the eunuchs the license to work in the palace or official houses in Ming China because the officials and the Emperor in Ming China usually kept many concubines. However, In Chinese society, castration broke with conventional moral rules. A son who could not have a male heir to carry on the family name contradicted Confucian ideology. The eunuchs, despite their awareness of losing the ability to have children, would get castrated in order to have better lives. Another stereotypical view of eunuchs in the palace was that they exceeded their power in areas they did not belong. Or that the eunuchs did unpleasant work. For example, they were spies for emperors or officials. The Yongle emperor gave the eunuchs the authority to be in charge in the implementation of political tasks. As the eunuchs' presence and power grew, they gradually took over the duties of female palace musicians and become the dominant musicians in the Ming palace. When they came to power, eunuchs would even interfere in politics such as the succession to the throne."
To summarise the historic reputation of eunuchs in China we could say that they were said to become wicked, power hungry "man-witches" ready to deceive, intrigue and spy on anyone at any time in order to get what they wanted. They hunted as wolves in packs and grasped power as soon as there was a chance. They were famous for their "feminine manners" and high pitched voices and their physical demeanour even became very strange compared to "normal men".
Either they became very skinny or very fat – usually very tall – with an ugly body structure due to their hormones being messed up.
Eunuchs Compared to Western Men
Let´s take a look at the ancient eunuchs and compare with the modern western man:
He was serving women – same as modern men.
He was doing non-physical "feminine" jobs indoors – same as many modern men do in front of a computer or in an office.
He is the lowest class – same as western, modern men who is treated as the lowest by their own governments, the media and his wife – if he has one.
He is usually fat and behaves like a woman – same as modern men who is weak, indecisive and obese.
The emperor mutilated the eunuchs physically so that they couldn´t touch women. In modern society "gender equality" and homosexuality is promoted. The modern man is encouraged to become feminine and submissive or else he will be persecuted.
He had no family due to his castration and he had no loyalties to anyone but himself and his short term material goals and desires for power . Modern western men tend to not have a family and his wife tends to divorce him if he has one.
He was a slave under the ruler and the women – in ancient times the emperor or sultan. The modern, western man is a feminised slave man under his marxist government and their media which rule him from birth to death with no freedom to speak of. Communism is very much about mixing genders and using women as "useful idiots" to suppress real men. His mind is particularly ruled by the government and science since all information he receives is based on the government´s version of truth with science as a powerful weapon to silence opposition. Government and medical doctors are his Gods and the most powerful tools of the government is the education system, the science and the media to control the population.
The ancient eunuchs were mutilated and now the governments want to block procreation and depopulate the world. Western men have lost half of their sperms in the last 40 years – speaking of invisible castration not only to their minds but now becoming visible in his own body. The Infertility Crisis is Beyond Doubt
Eunuchs were famous for their sly behaviour trying to control the emperor by intrigues and deception and many times they were used by women in the harem looking for power. Western men that are promoted these days are feminised, multicultural people who many times are feminine and have a "modern sexual orientation". Many western men know that their governments are persecuting them wildly and yet they don´t put up a fight or even open their mouths to protect their own existence and this is not a normal behaviour. Look at a wild animal when you try to catch it. It will try to fight or at least flee from destruction and that is the normal state of any free being.
Summary
These things are interesting. We have earlier discussed the similarities between animal snakes and modern people. This article is another aspect of the western extreme feminisation of men. Considering that the leading globalist nation – China – is trying hard to man up their boys we know that there is a very important weapon hidden here to suppress and control the world´s men. As the old saying goes: `History is repeated`. Speaking of the feminised Adam under the heels of Eva and Lilith.